About Us
Company Culture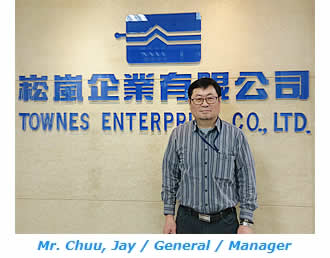 Townes Enterprise Co. Ltd, founded in 1991, is a professional connector manufacturer in Taiwan, especially in Pin Header and Female Header.

Our company's first consideration is always customer service and quality. For making sure our quality, We use advanced equipment for productions and instrument for quality check. Meanwhile, we consider good service is as the other key point to achieve success in the markets. In addition , our experienced and high professional technical team help us to produce high quality products and keep improving technologies. We also focus on implementing effective internal management. Thus, We win excellent reputation from customer all over the world due to our efficiency and quality. Now, We have customers from all over the world, including Singapore, including Singapore, China, Germany, Denmark, U.K., Switzerland, America ,Canada etc.

For meeting customer's request on the capacities, design and quality, we established Splendid Technology Co. Ltd in Dong Guan city in 2000, and in 2008, the factory moved to the Dong Guan city Dongkeng town, And we approved IATF 16949 certificate In 2019.

We established a new factory as our main manufacturing base in Ganzhou City ,Jiangxi Province in 2020 .Our products covers Pin Header, Female Header, Box Header, Board To Board, SATA, ESATA, D-sub, USB , mini USB, Wafer, FFC/FPC connector, mini DIN, CF card, SD card, mini SD, T flash, Ear phone, phone jack, Round cable, flat cable etc.

Meanwhile, Dongguan Townes Electronics Co., Ltd. was relocated from Dongkeng Town, Dongguan City to Changping Town, Dongguan City in July 2020.

(Room 301, Building 19, Changping Jewelry Culture Industrial Park, No. 568 Huanchang North Road, Shangkeng Village, Changping Town, Dongguan City, Guangdong Province, P.R.China)

It is our sales and production base which is specialized in automotive connectors.

 
---
Company Profile
We are well stocked with semi-finished, sized connectors in order to reduce delivery time and provide optimum efficiency to help you meet your deadlines. Automatic pin header assembly machines guarantee top standards of quality, while a small, highly efficient production staff keeps overhead low. This results in a great cost advantage for our customers. We are especially well known for our excellent OEM work. Fax us your designs and specifications immediately and we will work at it.

Business Type
Export Percentage
Primary Competitive Advantages
Experienced R & D Department
OEM Capability
Production Capacity

Sales Volume
US $ 9,000,000 to 9,999,999

Total Staff
Year Eseablished
Export Markets
OEM Services Provided
Production Type
Total Engineer
Monthly Capacity
1,000,000 to 1,999,999 Pieces

Product Range
Female header (2.0mm, 2.54mm, 1.27mm pitch)
Female header SMT type
Pin header (2.54mm, 2.0mm, 1.27mm pitch)
Box headers
Edge connectors(1.27mm, 2.54mm pitch)
Mini jumper
Fully shrouded polarized header
Riser card
Special OEM projects


---
Support
Workshop Cable test

Cable production line Flat cable draw-wire machine

Test machine Vertical injection machine
---
Research and Development
Machinery / Equipment for R&D
AutoCAD
Spectrum analyzers
Meters, general
Moldmarking
Test sockets
Plastic parts
Diecast metal & ESD machines

Locations
Chung Ho City, Taiwan

Outstanding R&D Performance
Our R&Ddepartment performs beyond our customers' expectations and demands in order to achieve mutually-agreed goals.
---
Quality Control
Staff
10

Materials/Components
Taiwan

---
Services & Support
Sample Availability & Policy
Requested samples are delivered within 7~10 days after receiving price confirmation.

Guarantees/Warranties/ Terms and Conditions
Goods will be 100% replaced if they are found to be defective within 15 days after shipment.

After Sales Service
Any quality problems will be solved within seven days after the claim is made.
---
Townes Taiwan Factory
Profile
Total area of 660 sq.m.
Located in Chung Ho City, Taiwan Built in 1991

Staff Details
Production Staff-16
QC Staff-10 R&D Staff-2

Site Advantages / Description
The location of our Chung Ho City factory, in the industrial district and only five minutes away from the freeway, facilitates quick delivery of our products worldwide.
---
Townes China Factory
Splendid Technology Limited (China plant) founded in 2000,is one of the branch of Townes in China ,Invested HKD2,030,000,specialized in pin header, female header etc.
---